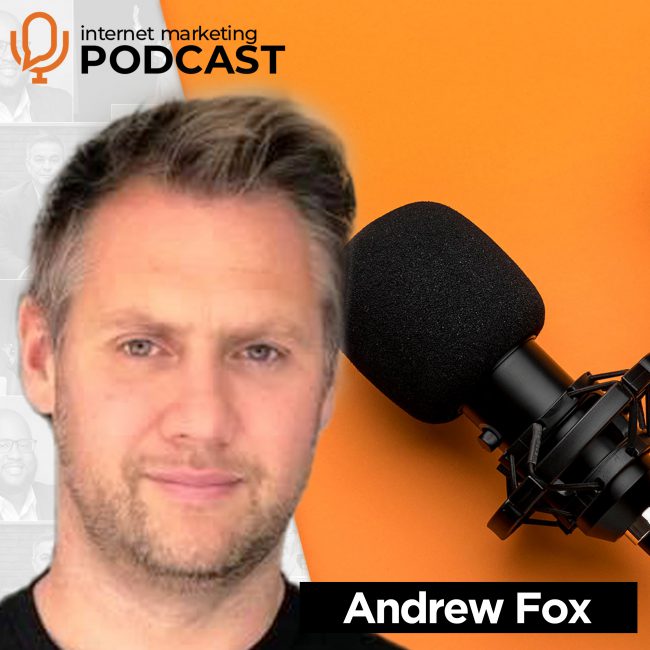 About this Podcast:
Today, I'm chatting with a British entrepreneur and internet marketer, who's achieved real online success. So let's dive straight in and find out more about that and meet the man himself. Andrew Fox.
Episode Transcript:
Editor:
Today, I'm chatting with a British entrepreneur and internet marketer, who's achieved real online success. So let's dive straight in and find out more about that and meet the man himself. Andrew Fox. Welcome.
Andrew Fox:
Hey, it's good to be here. Thanks for having me on the show.
Editor:
No problem at all. Now you've been around the internet for quite a while now. Can I ask how did you your journey start?
Andrew Fox:
Yeah, I'm a bit of a dinosaur. I've been here for too long. I should just be retired fully on a boat. Never to be seen again. Yes. So I guess, would you believe, I started when the internet first came on, it was probably around 1990-ish I was working washing cars for like three pounds an hour. It's probably about $5 an hour for my American friends. And what was funny is I used to tell the people who I'm washing the cars, I'm going to have a Ferrari one day. Would you say I'm going to have a Ferrari in like three or four years time? And you'll see. Probably a few of them thought, well, this guy is absolutely bunkers. He's absolutely crazy. There's always that one or two who said, young man, I think you're going to do it. So as I washed their cars for, $5 an hour, I just had this beach house picture on my wall, back home in my bedroom, living with my parents. I had the British in the wall. I had all that kind of stuff. The yachts, everything like that. And lo and behold, five years later, I was, didn't have one Ferrari. I had a couple of Ferrari's and a beautiful house in the beach and bought myself a lovely yacht. So yeah, things can come true if you really put your mind to it or very pigheaded and just go for it.
Editor:
Fantastic, I mean, not one Ferrari, but two that shows real achievement here. You've been behind various online success stories. Maybe you could maybe just tell us a little bit about the ones that stand out in your mind.
Andrew Fox:
Yeah, I mean, there's a few interesting ones. I'm sure. So many people on the [inaudible 00:02:03] might know, know a guy called Russell Brunson. Obviously the co-founder of ClickFunnels. Russell flew over to my house here in Ireland for an event. And he told me, he goes, "Hey, Foxy, do you mind if I bring over a guy who's doing a bit of search engine optimization for me, his name's Paul, he's a pretty switched on guy. Would it be okay if I brought him to the event?" And I said, yeah, sure, no problem. So anyway, Russell flies over, Matt Bacak flies over some guys on ClickBank doing some pretty extraordinary numbers. And we hosted like an event at, my house. And then we went to the yacht in Belfast and had a DJ and everything on board and drinks and waitresses and everything. It was pretty cool. Forwarding. Russell went to the cinema, I think from memory, he was telling me at the time I want to build something big. I remember that. And then, ClickFunnels was born. That was pretty awesome. But anyway, the story back to Paul. So Russell gave me this affective introduction to Paul, Paul and I we just headed off. He was a good guy and we just became a [inaudible 00:03:13] , became friends slash business colleagues, even though we hadn't really done a lot of business together perse, and there's just that relationship. But anyway, fast forward a few years, this is what happened. So Paul hits me up and he says, Hey, Foxy, I've got an idea. I've got this doodle animation sketch software. And I think it's going to sell pretty well. I promoted it to my email list. It's sold really well. Would you mind promoting to yours? So I promoted it to mine. And let's say I make, I don't know, $10,000 in 24 hours from a promotion. And that would be, pretty much say standard. Okay. Well, I ended up doing like $30,000 from this promotion. I was like, holy crap. This thing has legs. This thing will cook if you pour the gasoline on it. So Paul said to me, look, could you get other affiliates on board? I could give you a percentage or whatever you want. So I basically said him. I said, well, Paul, it honestly, it's not the best use of leverage. I'd recommend you do a launch where you basically, gather your affiliates together and you put together a price pull, you put an upsell and basically took them through the procedure of doing a launch, because that's primarily what I was known for my expertise. And he just turned around to me and said, look, Foxy, I can't be bothered with any of that. Do you mind if I just give you like an equal stake in the company and you launch it with us?
Editor:
Wow.
Andrew Fox:
So honestly I get, offered those kind of deals fairly often people will give me a pretty generous percentage, to come on board and launch the product. And I generally say no most of the time, because I'm just busy with my other projects, my life, but on this one, I felt it was good and I had a good relationship with Paul. So we launched the product. And we end up doing $113,000 in sells in about 12 minutes from memory.
Editor:
Nice.
Andrew Fox:
I think the first day we did about a couple hundred grand, 250 or something like that. And in the first seven days, I think we did about 650,000 maybe from memory. And over the years we, we launched different editions of it and it kept selling every day. It still sells all these years on we've sold millions and millions and millions of that product. So, that's an interesting story, meeting Paul via Russell, having that connection. And then, two to three years later working on our project together that, that did millions.
Editor:
Yeah. And how did you meet Russell in the first place? What's the background there?
Andrew Fox:
Well, Russell probably came into marketing a little after me and we were friends, we were just good friends online and he used to promote some of my products. I promote some of his, I was an affiliate for his, he was an affiliate from mine, we made up at some events and stuff and he was just I guess, an old time friend just from back in the day as such.
Editor:
Great. It just goes to show the power of networking as well. I guess when those types of things just, just come out of nowhere and what's the software called Andrew? What should we be looking out for online?
Andrew Fox:
That was called Easy Sketch Pro. So it's a doodle animation software.
Editor:
I'm sure many people listening or reading. I probably got that in there in their collection by the sounds of things. Now, obviously online tools are really useful for any buddy entrepreneur for anybody who's just starting out today, Andrew, are there any tools that you would recommend, which are the ones that they should be looking out for?
Andrew Fox:
Well, I guess, the good old fashioned build an email list is where you start. Email's still a certainly a popular way to communicate with people. I mean, I'm sure this newsletter or our interview will probably reach people's inboxes from somewhere. So I guess my tool of choice for that would be ActiveCampaign. That's a great tool for email management, payment processors, you have, Stripe and PayPal. If you want to get on a network, JVZoo has been fantastic over the years, ClickBank.com again, easy networks to get set up on, because then you can leverage affiliates and do it that way. So I suppose that's just a few quick ways to get up and running, to take payments, build an email list.
Editor:
Yeah, absolutely. And, your own business. Can you remember, the first steps that you took when you were starting out? What, were the things that you did and what was the catalyst, what made you want to work in online marketing?
Andrew Fox:
It was, I guess the way it really started was going back to those bedroom days, working on the car wash, I could see this internet thing coming along. This were the days of dial up, when someone tried to ring you, the phone was going, beep boo beep boo. You couldn't get through and your parents were saying, get off that internet. You're costing me a fortune. And I'm saying, but, but it's the future? The Internet's the future. I suppose I taught myself web design, not because I want there to be a web designer and I certainly would never be a grip web designer at all, but it was just a skill I've always believed that you need to bring value to the world and you have to develop a skillset. What drives me crazy is when people come online and they complain and they whine, or they say, I want you to promote this or I want this, but I'm like, well, what value are you going to bring to me first? Everyone has a skill. Whether you know it or you don't. So you've got to learn. You've got to evolve. I suppose. It's kind of like create the skills, feed your mind, bring value to the world. That's step one. And I suppose that led me to, obviously I created websites and then I, developed a website, which I suppose what actually happened was I was building an email list and I promoted this product as an affiliate. And obviously honestly, back then the term affiliate wasn't really used. Affiliate marketing didn't almost really exist, like the way it does now. So I ended up promoting this product. I think it was called Postmaster online. It was a recurring service. And I ended up making like a thousand dollars a month recurring commissions. And I was like, holy crap, this is pretty cool. So I guess I kind of naturally fell into it. And then I bought some guides, a guy called Corey Rudl, who unfortunately passed away many years ago in a car accident. But he was one of the pioneers of our industry. And he had a company called the Internet Marketing Centre. So what I did was I, while everyone was getting like games and stuff for Christmas. I asked my parents for these internet marketing London seminar tips. And on those London seminar tips, he explained about marketing affiliate programmes. How to learn how to write email, copy, how to learn to create websites. And honestly, I just literally watched those and went like this. I'm going to be rich because I understand this. I just I get it. So it was probably about 22 years old back then. And I just understood it. And I guess that's what led me down the rabbit hole. And this was before there was no Facebook advertising, Instagram didn't exist. Google was just getting started. It was a different world back then.
Editor:
What challenges did you face at that time?
Andrew Fox:
I guess when something's so new and you're saying I'm going to become a millionaire. I'm going to become a millionaire on a thing that no one knows about. No one understands. It's no one believes you. People think you're crazy. Your parents think you're crazy, but you believe, you just know there's something there. So it's a challenge of just believing in yourself, I suppose. But I was so pigheaded. I didn't care. I was just going to go for it no matter what. And I liken it to the, you know, blockchain technology. I've been a very early adopter of crypto and blockchain, and I believe that's going to have a huge influence in the world in the years to come. So again, people would call you crazy back then. For example, with Bitcoin, Ethereum, everyone's rushing [inaudible 00:11:22] . So it's an amazing time to be alive.
Editor:
Out of everything that you've you've achieved. I know we've touched on certain successes, but what are you most proud of?
Andrew Fox:
What am I most proud of? I guess it's the fact that you can prove that when you put your mind to something and you don't care and you just want to go for something, you can achieve it, whether that's, personal goals of achievement, whether it's financial goals, whether it's just, lifestyle goals, whatever it may be. It just shows that the power of determination and [inaudible 00:12:02] force, you can win in the end. That's what I think, I've certainly carried out a lot of different acts and charitable acts in my life that I don't really want to talk about publicly per se, but when you've, I suppose you've had a successful business, it empowers you to be able to help people around you and stuff. I mean, it's a great gateway, I suppose, into helping other people.
Editor:
Absolutely. And if you were starting out now, is there anything that you think you do differently?
Andrew Fox:
Starting like differently? Well, what I like to do is I have a great passion for investing. So what I would probably recommend to everyone is, go on to a service like, Vanguard.com or Fidelity.com and just look at different things like various index funds, or I think on Vanguard, there's a life strategy fund and start investing from any age, whether it's 18 years old, 30 years old, 40 years old, whatever it may be and set up like a simple direct, but even for as little as 25 pounds, that's $35, $40 a month. And just get in the habit of investing because compound interest really is the wonder off the world. So I've been investing for many, many years. And honestly, businesses can make money, you can have your, ups and downs, but investing consistently is one of the true ways to financial freedom.
Editor:
It's good advice. And, and you've obviously worked super hard along the way to achieve your level of success. How has that been for you? Is there any time where you kind of want to just give this all up and, and do something different or has that never even crossed your mind?
Andrew Fox:
Well, the funny thing is I'm at the stage now where I, If I want to retire, I can retire per se, but let's pin that scenario out. What am I going to do? Am I going to sit in the couch and watch YouTube? Am I going to lie in the beach all day? No, no, let's put this in context. The Instagram kind of social media world is I'm just lying by the poem and chilling, which everyone loves. But, can you do that all day? Every day? Can you just sit and drink coffee all day? Maybe some people could, the answer is, it's nice to be able to have a break, but the reason I probably got to where I've got to is because of that drive, that passion, and figuring things out and creating new projects and seeing them work always the concept of turning $1 into $2.
Editor:
Sure.
Andrew Fox:
So I don't think that ever gets old and anyone who knows my personality laughs and you'll retire for five minutes, which is probably true. But yeah, I think I'm going to buy a new yacht soon, maybe in the next six months a year or so. And I'll probably spend a bit more time on that, with a bit of chill time. But the reason I don't want to take the foot off the gas too early is I want to look back saying in a further 10 years, I don't want to look back and say, I coasted too much. I took the foot off the gas too early. I'd rather test myself. Let's see what I'm really capable of. Let's see what we can achieve rather than looking back and thinking I was a little bit lazy.
Editor:
I think that makes perfect sense. And just for some kind of context for people who haven't come across you before, Andrew, you said that you are able to retire. If you wanted to, can I ask how old you are?
Andrew Fox:
I am now 40.
Editor:
So to be able to retire at 40, I mean, I think for a lot of people that would be a dream scenario. Some of the steps that you've taken along the way, obviously, you've had the successes, have there been any kind of absolute disasters I hate to ask, but I'm sure along the way you must have come across some things that just perhaps haven't worked as well as you thought they would.
Andrew Fox:
Well, the funny thing is that sometimes the things that you think are going to work really well don't pan out as well or just don't convert as you'd hoped. And then the ones that you've not put as much effort into for whatever reason or the website looks ugly. You think the sales page is terrible. They can convert like crazy. So you can't win them all. But if you win consistently and you invest consistently, you'll come out in the winning side. That what I would say. So yeah, absolutely. Some things don't pan out as well, but some things work really well. And it's just that law of average, if you can keep a consistent, good average, you'll win in the end.
Editor:
Do you have a formula now that you use, when you're putting like a product or something like that together, is there an Andrew Fox formula that you stick to rigidly or is it always a little bit fluid?
Andrew Fox:
You have to always, you can have the core principles, but you have to have a degree of fluidity without a doubt because markets, they do evolve and they, they swing back and forward. Like sometimes info products might be in trend and then they maybe fears out a little bit where, for example, with JVZoo, it's primarily software and, software launches are maybe 90% of the marketplace. I don't know the exact stats now, but then sometimes you can buck the trend and you think, well, we're bringing out a product called Affiliate Millionaire, which basically teaches affiliate marketing. And it's an info product, but I think it'll do pretty well because I think affiliate marketing still represents a great opportunity for people. It's a great entrance because people can get in without owning their own product. They can just learn to drive traffic, set up a landing page and collect commissions. And I think the reason is people have tried other business ventures, whether it's their own agency, whether it's creating their own product, whether it's creating their own software. And there's been a lot of challenges. And I think affiliate marketing represents an easier gateway personally.
Editor:
Yeah, of course. And I was going to ask about, for anybody who perhaps is just starting out on their journey. What's the advice you would give them to get started? Would you say affiliate marketing is the first step they should take?
Andrew Fox:
It's definitely a good entrance because what I've always taught people, whether it's at seminars, whether it's on one-on-one private coaching or whether it's on a group event is if you can learn how to drive traffic effectively, whether that's paid traffic or search engine traffic, whatever it may be. And, or you can learn to write sales copy, which also doubles up as email copy. If you can learn to be a good copywriter and you can learn to drive traffic, you'll nearly always be able to, write your own paycheck. So if you can learn those skill sets, that's going to go a long way. So even if you go into say affiliate marketing, if you learn how to do you know, traffic, and you also learn the art of creating email copy, and rather than just, lazy people like to just cut and paste stuff. I understand that, but you need to understand why did they write that headline? Why is the first line of the ad that long? Why are they asking that question? Why are they using that language? What response are they trying to elicit? You need to understand that stuff. If you can get a good understanding of that, you'll be able to write ads. You'll be able to write email, copy. You'll be able to write sales copy. And that's a great asset to have. And it's the same as driving traffic. What can I write? What can I write in an ad? What image do I use? Why is there a circle around that part of the image? Why is that ad probably written that way? Why if you're making a claim, have I used certain wording to avoid getting in account shut down. There all these nuances that you have to understand. And it's a simple formula, but there's a lot of little tick boxes. And obviously in our Affiliate Millionaire course, we will cover that. We do go over that, but that's the thing that the formula can be simple, but it's all the little details along the line that can trip people up. So you either pay someone to learn how to do it, or you can figure it out yourself. So it's totally up to whoever, whatever path you want to choose.
Editor:
The saying is isn't that the devil is in the detail, but I guess in this instance, you're saying the opportunity really is in the detail.
Andrew Fox:
Yes, absolutely. You need to, one of the markets that we teach in the course is dental. And you might be thinking, you know, dental is, teeth will think about it. Everyone has teeth. And let me ask this, has anyone on this call, have you ever experienced problems with your teeth? Have you ever had bleeding gums? Have you ever had a tooth out of shape? Have you ever had abcess, have you ever had a root canal? Do you know any friends that have problems with their teeth? And the answer is probably, yes. Unless I've been living in a strange universe. So that's an example of there's different info products you can promote, there's different supplements you can promote. And they're really, they're evergreen niches, they're they're evergreen industries. And from those niches alone, you can generate some pretty nice sales. So, there's an example there of just one evergreen, really simple niche, but you've got to understand how to communicate with your audience. You need to understand how to set up your landing page and you need to understand how to drive that traffic.
Editor:
Sure, I mean, you are obviously busy with a number of things, Affiliates Millionaire, did you say?
Andrew Fox:
Yeah. AffiliateMillionaire.com will be the main website. I think it's going to give people a lot of value. I think there's certainly a market there to teach affiliate marketing. There probably is guides out there. I just haven't seen any like recent ones in a while, so I think it's a good gap in the market and it's, good to help people.
Editor:
Yeah, absolutely. What does the year ahead have in store for you? What else are you working on?
Andrew Fox:
Well, we're going to be launching that as a pretty powerful brand going forward. So I think, that'll do really well. And I also, for the last six years, I've been building a mobile app building company with my brother, Chris, it's called Zapable.com. And this basically helps you create a mobile app for your business. Well, there's two ways you can do it. You can either create an app for your own business or service, or you can create apps for other businesses and sell that to them as a service. So you would say purchase Zapable to allow yourself to build apps like drag and drop, even if you were a technical, like a complete newbie, and then we train you how to sell those apps to other business owners. So, we've been doing that for about six years now. Obviously in the recent years with obviously the pandemic and everything, businesses need to get their own mobile presence. So it's still a very much a growing industry.
Editor:
Great. And, for anybody that wants to learn more about you or maybe even get on your list, Andrew, how can they do that?
Andrew Fox:
Well, would you believe I don't have a direct email list as such, if you actually put in the domain AffiliateMillionaire.app, dot A-P-P on your phone that will load up a mobile app for free of charge on your phone. And in that you'll be able to opt in for, some updates. And there's also going to be a free case study. I think it's how we did $190,000 in six weeks with affiliate marketing. There's like a 20 minute video walkthrough on that. So that's a pretty good freebie to have.
Editor:
Fantastic. Well, Andrew, it's been an absolute pleasure finding out more about you finding out more about your businesses as well, really appreciate your time.
Andrew Fox:
Hey, it's been a pleasure to be here and hopefully I give a bit of a bit of value to your customers and subscribers. Like I said, it's just about not giving up. And I know some people get frustrated and tired and they think, why is it not working, but it can work for you. But my advice is once you learn to start making money, start that investing it as soon as possible, even if it's like $50 a month, $20 a month, just get in the habit because investing in the long term is where you're going to build your success.
Editor:
That's great advice, Andrew. Thanks once again, really appreciate your time.
Andrew Fox:
My pleasure. Thanks a lot.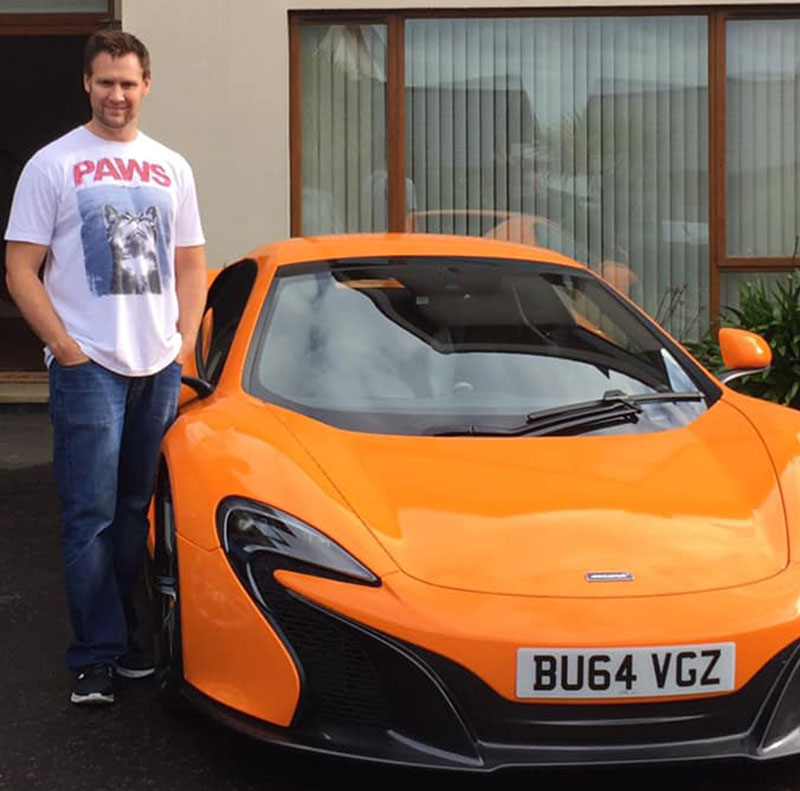 No posts were found for provided query parameters.